Turkish artist's perched birds pay tribute to the displaced
Turkish glass artist Felekşan Onar's perched birds at Dresden Museum deliver a poignant message on the frailty of refugees and migrants - from Syrians in Turkey and Turks in Germany to the Turkish and Greek population exchange of 1923.
There is something fragile and unprotected in the glass birds of Felekşan Onar, even before the Aegean artist tells you of their association with refugees. The glass swallows in colors of amber, gray, and deep blue, with their wings glued to their fragile bodies, somehow manage to reflect a sense of incertitude, frailty and melancholy - an allusion both to the Syrian refugees of the 21st century and displaced Turks and Greeks after Turkey's War of Salvation of the 1920s.
In 2017, just when thousands of Syrians were crossing over to Turkey to escape the Syrian war, Onar found a migrant family at the doorsteps of her Pera studio in Istanbul. The sight was far from unique, and it became more and more common as half a million Syrians found their way to Istanbul, changing the landscape of downtown Asmalimescit, Galata and Beyoğlu.
The family on her doorsteps and the others became the inspiration for "Perched," an art project of 99 glass swallows that have, since then, traveled to European cities. 44 of these will be permanently settled in the Dresden Museum für Volkenkünde, where they are on display in its orientalist hall, aptly called the Damascus Room, from September 2020. Before that, they were at the Pergamon Museum of Berlin, which displayed the birds at its Aleppo Room.
"Once my birds enter the Dresden museum's collection, I am hoping that they will open up their wings and travel to other locations, perhaps North America," Onar mused in an interview with Duvar English. "And of course, to Istanbul."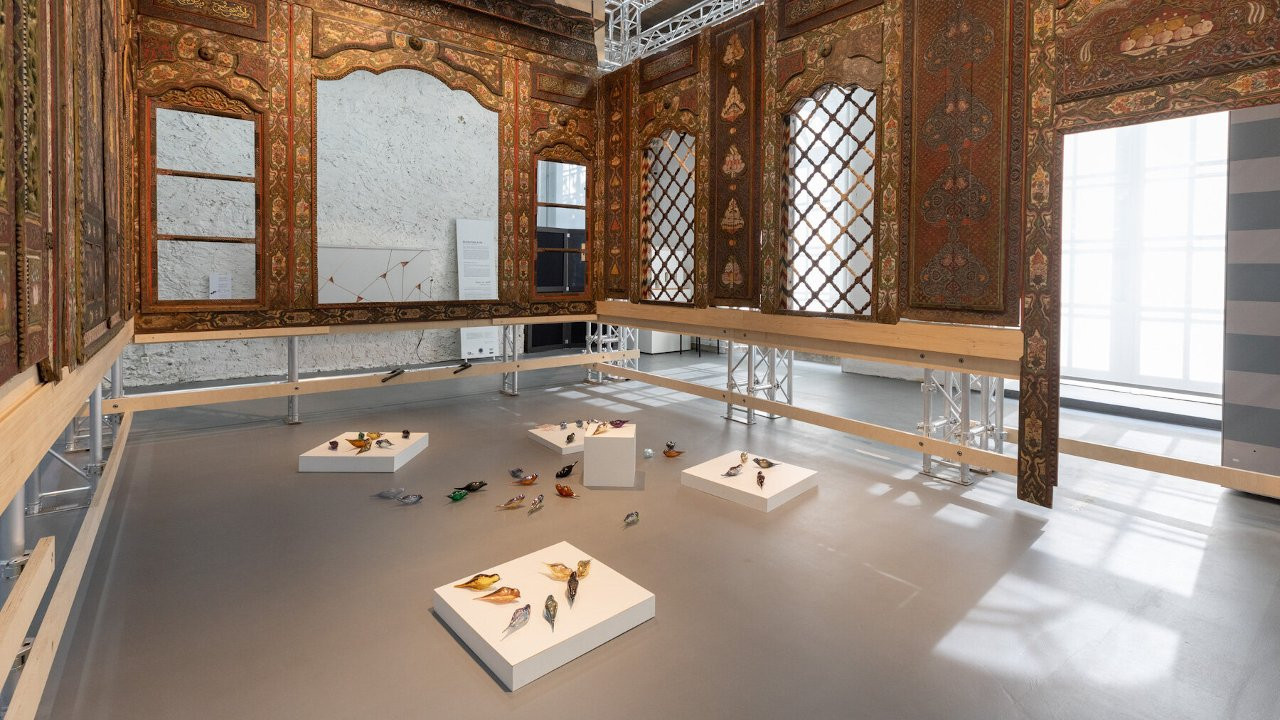 Besides Germany, the birds have been on display at the Victoria and Albert Museum, where the artist held a conversation with writer Louis de Bernieres, whose novel "Birds without Wings" was one of the inspirations of the project. Seven of the birds will settle in Victoria and Albert Museum for good.
"When I have read Louis de Bernieres' novel, 'Birds Without Wings,' I was moved because I knew the places, the people, the impact," said Onar, born in a small town called Söke, on the Aegean coast. The novel, set in a fictional village called Eskibahçe based on the ghost village of Kayaköy near Fethiye, paints a vivid picture of life in the village where Turks, Greeks and one Armenian live until first the Great War and then the Turkish War of Independence broke out. Once the wars were over, Turkey and Greece agree to exchange the Greeks population in Turkey - except Istanbul - and the Turkish population in Greece; uprooting thousands of Turks and Greeks in 1923. Onar knew of this first hand - the family's housekeeper, Nazmiye, had come from Crete to Söke as a result of this population exchange and spoke Turkish with the accent of a native Greek speaker.
When a potter makes something
But the link between de Bernieres' "Birds without Wings" and Felekşan Onar's glazed glass birds is not limited to the frailties of birds and humans. Both the book and the exhibition demonstrate the power of the artist/artisan's to create works that bind people and communities together.
In the novel, Iskandar, The Potter - whose quote that "a man is a bird without wings, and a bird is a man without troubles" gives the book its title - makes two musical birds, one to his son and the other to his Roum (the special term for Greeks of Anatolia) best friend, so that the two boys can call out to each other. Before he gives the two terracotta objects to them, he explains the importance of the potter. "Because God created everything out of earth, air, fire, and water, and these are the very same things that a potter uses to make his vessels," he says as he playfully shapes the birds before the boys' eyes.
Like de Bernieres' potter, Onar also savors the opportunity to shape her creations at every stage of production, not just design. A latecomer to glassmaking after a career in textiles, she decided right away that she would not be drawing objects and letting others make them - she wanted to be able to manipulate the glass throughout the process, playing with the surfaces, the reflection of light, shape and color.
Onar stumbled on the endless possibilities of glass in her teens, while studying at American College for Girls in Izmir. "We had this huge art room, with a century-old tree in the middle. The school was an old olive farm and the art room was supposed to be its barn - anyway, it had excellent light. I was not a particularly good art student, but one day, our teacher, Aysel Çırpanlı, came with a glass of 20x20 glass and asked us to paint on it. I loved that - I loved the way glass could reflect light and color, so I started dabbling at home by painting over bits of glass throughout my teens. I felt happier while working with the hidden light, the translucency of glass."
But more serious endeavors took her away from the craft. After school, she went to the University of Cornell to study economics, then worked at Citibank. Afterward, she and her husband established their own jeans business. The breaking point for the industrious young woman, described by friends as a shrewd businesswoman, came right after she went to Harvard for an executive MBA. She announced to her family - husband and two daughters - that she would take a sabbatical.
"I do not know how I got redrawn to the glass again," she told Duvar English. "I started drawing large sculptural bowls and then decided that there was no point in designing objects if you are not going to have control over the final product. So I took a course in Üsküdar, where I have learned several techniques to shape glass, some I could do myself and others with only sophisticated tools." She turned her garage into a workspace and installed a kiln. The rest was a learning curve - she acquired the techniques of kiln-casting through French artist Chantal Royant and worked with Mohammad Imad, a Syrian calligrapher, to use calligraphy in Kufi script, in spinning bowls, an Eastern form. "SoI started reflecting my background, my heritage in glass," Onar said. One of her works, produced by Turkey's glass producer Paşabahçe, brings a modern twist to Ottoman oil lamps.
A man's work
Whether in the form of beads or sharp cutting objects, humanity long used glass both as decoration and daily appliances and the earliest glass objects date from the mid-third millennium BC in Mesopotamia. "We see glass in use as agricultural tools to carry water or as the setting of precious stones," explained Ari Amaya-Akkermans, an art critic based in Istanbul. "In Sadberk Hanım Museum, you see beautiful perfume bottles from the Roman Empire from the 1st century; or janiform bottles. You cannot pin glass to a certain geography, nor to the east or west. It is one of the commodities that show us that we are part of a multicultural world where commodities, as well as knowledge, traveled along the routes between India, Egypt, Bahrein, Anatolia and the Aegean."
Despite a few exceptions, glasswork remained in the monopoly of men well into the 19th century. "It was challenging work," explained Onar. "Particularly working in furnaces and blowing requires both endurance and strength, so the sector remained in the hands of men."
Tradition also played a part - in the tiny island of Murano, a short ferry ride from Venice, approximately 1000 people work on making ornate objects from the globally-famous Murano glass. There has not been a female master glassmaker until the 2010s, though some women have been involved in the design. Onar has also made her way to the island last year to create her fourth project for the annual "Venice Glass Week" hub at Palazzo Loredan in September 2020.
Mice holding on to cities
The project, "Encode," was an installation of hot-formed and cold-cut mice figures with metal cast tails - another wink at the inhabitants of big cities. "Having spent the last few years in between three cities, Istanbul, Venice and New York, I began to detect similar concerns and parallel reactions of their inhabitants. Despite the growing challenges of living in those cities, their residents hardly ever consider relocating, but become persistent 'occupiers.' What I have also detected is the increasingly vast existence of another species that we share these grounds with, namely mice. I later discovered that mice, in fact, increase in numbers as living conditions get tougher," she explained.
But could the pandemic change this persistence to live in a larger town? "Let us see whether those who see these glass mice are perhaps smarter than the rodents and give a break to the cities that we fill with the effect of the pandemic. Even if we did not take this pause, it turns out that nature wants this recess from us."
From perched birds trying to find a new nest to mice keeping their iron tails up while holding onto their habitat in a sinking city, Onar's glass figurines have a story to tell - and so does their maker, ever since the days she was a curious child reading "A Thousand and One Nights" in a garden in Söke and wondering on the hidden light of objects.