Turkey's media watchdog threatens broadcasters over wildfire coverage
Turkey's media watchdog has threatened broadcasters by saying that penalties will be imposed on those covering the wildfires without abiding by its rules. The watchdog, known for censoring channels critical of the government, claimed that some broadcasters are trying to create chaos among the public.
Duvar English
Turkey's Radio and Television Supreme Council (RTÜK) has threatened broadcasters over their coverage of wildfires, which have been ongoing since July 28, saying that some channels are trying to create chaos.
The media watchdog, known for imposing heavy penalties on media outlets critical of President Recep Tayyip Erdoğan's ruling Justice and Development Party (AKP), sent a notice to the broadcasters with a threatening undertone on Aug. 3.
The RTÜK claimed that the wildfires have been successfully put out by firefighting teams and that airing footage of burning areas would serve those seeking chaos.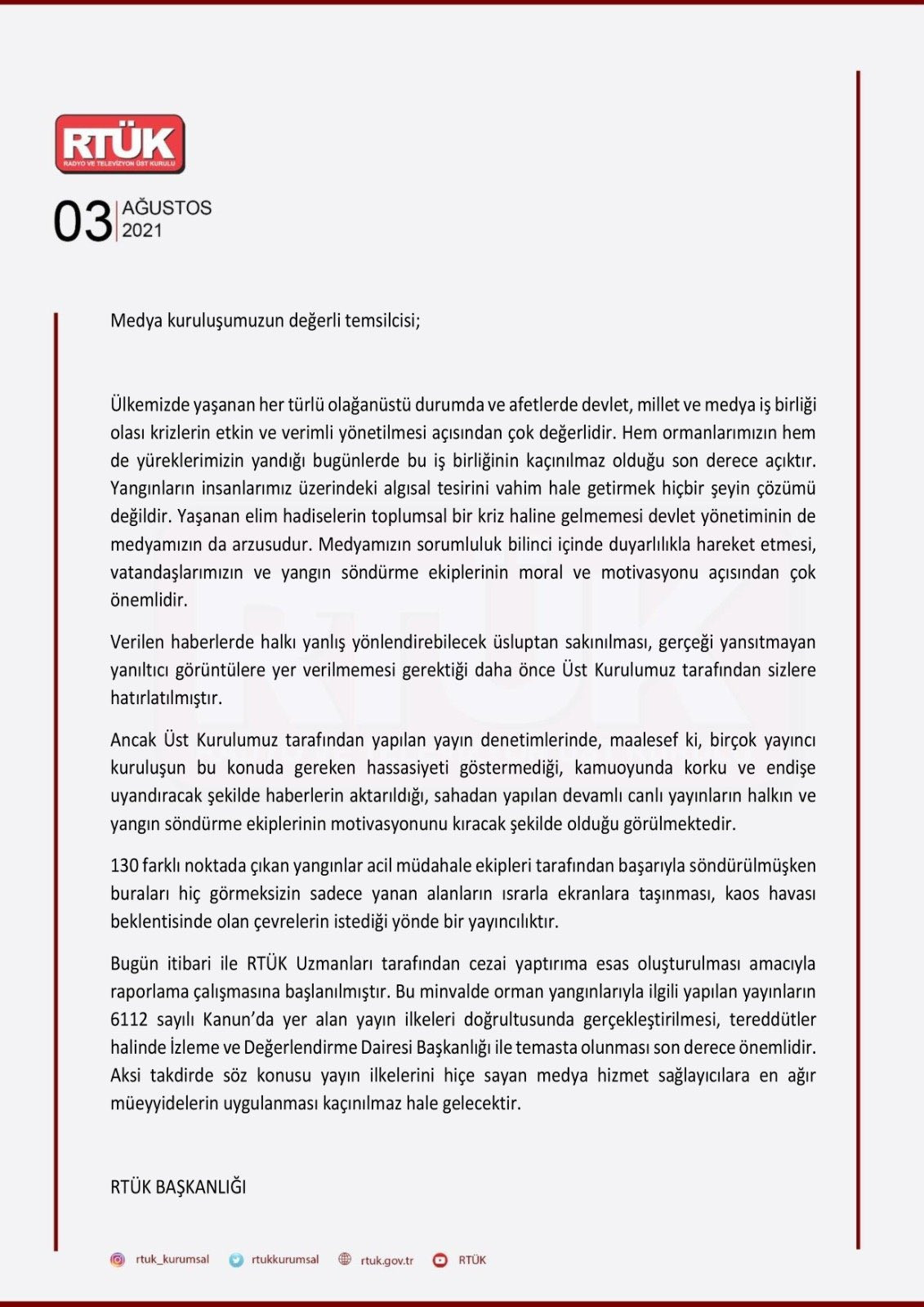 It also said that many broadcasters are airing reports that would create chaos and concern among the public, adding that reports from the ground demoralize the people and firefighting teams.
Contrary to the watchdog's claims, the government has failed significantly in extinguishing fires that erupted in numerous districts, mainly due to the country not owning one single firefighting plane.
Adding to the scandal, the government refrained from asking for help from other countries on the grounds that "Turkey is strong."
At the end of its notice, the RTÜK said that those unsure about how to report must be in contact with the watchdog, noting that heavy penalties would be imposed on the broadcasters that don't abide by its rules.
İlhan Taşcı, a RTÜK member from the main opposition Republican People's Party (CHP), slammed watchdog chair Ebubekir Şahin for threatening heads of broadcasters through a private line.
Türkiye yangın yerine dönmüş, ciğerlerimiz yanarken RTÜK Başkanı Ebubekir Şahin "özel hat" üzerinden televizyon yöneticilerini tehdit etti!!!
Şahin gönderdiği mesajda televizyon yöneticilerine "yangınları göstermeyin yoksa size en ağır cezayı veririm" diye tehdit savuruyor👇👇👇 pic.twitter.com/anSa30Aq2g

— İlhan Taşcı (@ilhantasci) August 3, 2021
"A broadcaster's duty can't be to distance itself from the truth just because the RTÜK chair wants it," Taşcı said.